Disclosure – This is not a paid for review and was done on my own doing with no financial gain
I have to admit it, even after years of having my mental health under control, I almost broke again. I; Li Harris. Still suffer with mental health. and that is OK. this is a story about my journey with seeking help and making a path of recovery thanks to Online Therapy with IESO.
How did this happen
In January i was promoted to Acting House Coordinator of the 16+ Semi independence placement i had been working at for the past 1 Year 6 Months; after my previous manager fell sick and unwell. i was asked to step in. which i jumped to the position despite not knowing much of what i needed to do, or what was about to happen in the next 6 months to my health.
the thing is i work in a highly emotional forward job where I'm needed to complete a lot of paper work, and tend to my residents needs and wants. i found the job very much a balancing act where i struggled to find time to commit to my new roles and responsibilities. due to my struggles and battels (and lack of support at the time) my brain started to get overwhelmed and i was becoming exhausted very quickly and irritable / unresponsive. i spent a lot of my days of "Resting" and unable to commit to basic home chores which made the atmosphere with me and my partner Josh very unstable at times as he was always picking up after me and he was just as busy and stressed.
towards the end my brain started telling me i was doing a terrible job and kept convincing me i was going to get fired in a matter of days. i prepared my employers to the situation i was facing and made them aware that i may need to step down; I certainly was not ready for Ofsted registration and i didn't really feel up to it. at this point i was convincing myself i was a dreadful person and comparing my achievements with everyone else. i was always looking for reasons to reassure myself that the negatives where correct and i couldn't even contemplate or entertain the thought that i was doing the best that i could do under the circumstances i had been left with. at this point i was avoiding even the easiest of tasks and i found myself very confused. i was drinking 5 cups of coffee a day and still not able to achieve my backlog of work. my to-do-list was 50 tasks overdue and I'm hanging on. but i got to the point where i had enough, if i did not act now, then  i was scared that i could end up repeating history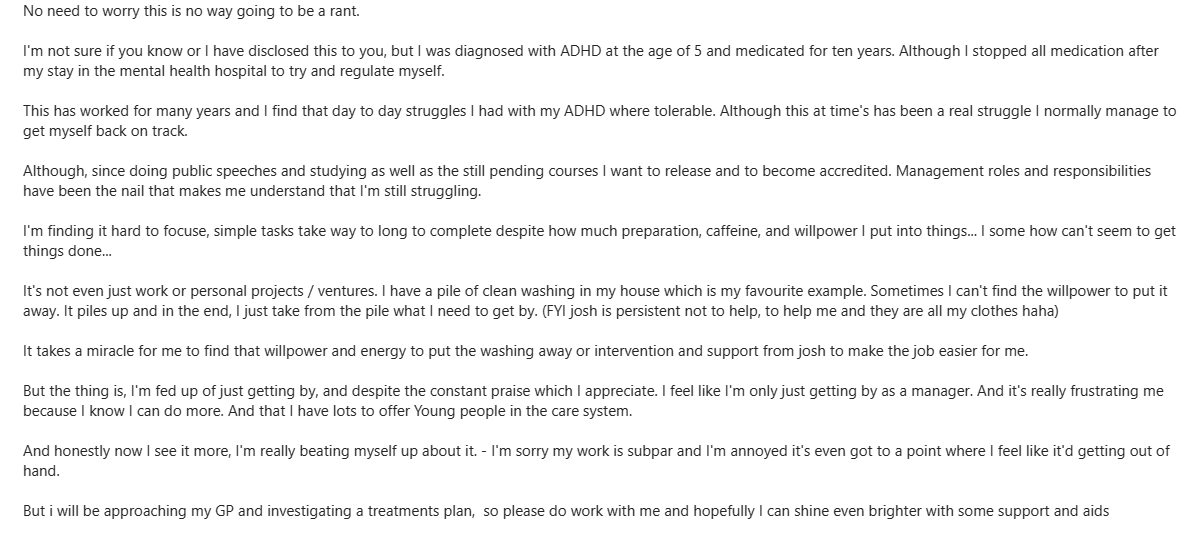 And then a few weeks later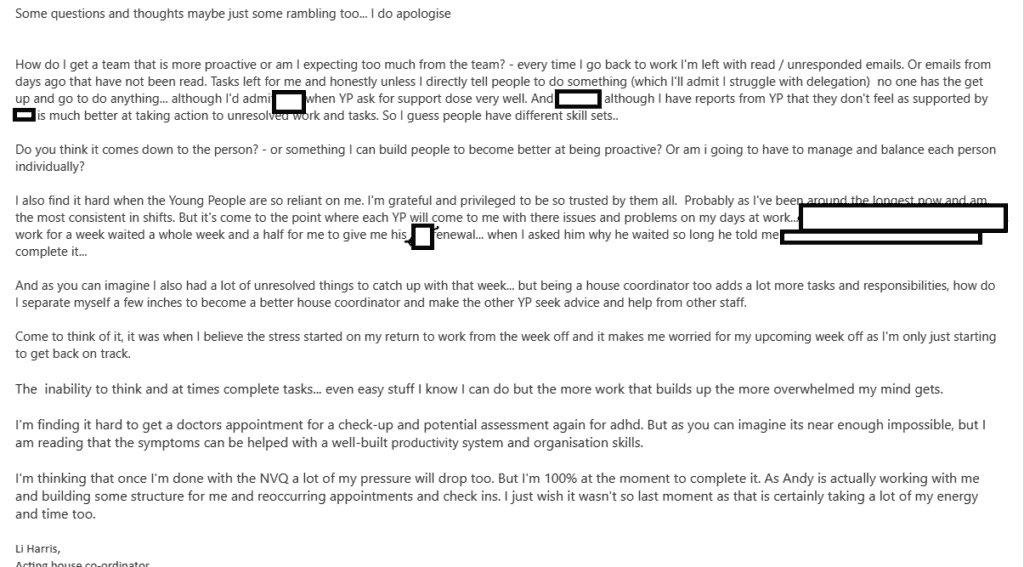 Time to speak with my GP
i
contacted
my GP and explained to them everything i had been going through; it took 3 attempts to get anyone to listen to but by the end i told them about my previous mental health issues and let them know that i was cracking and felt like if this continued that i would not be sure if some sort of rebound would happen. i spoke to them about how important my job was and how much i wanted to continue doing what i did. i also reflected that it could be some sort of ADHD rebound and i had a childhood Diagnosis which they could see on my records. the GP did offer me a dose of Sertraline which i refused. i explained to the GP that i suffer with addictive personality and I've been addicted to many substances in the past; and that i was scared to try the tablet again as i had in the past been prescribed them. and this is not the way i wanted to go. and i would like to seek other means of "Help" the doctor told me that they would refer me to an adult ADHD Clinic and also pass my information on to a NHS CBT Therapy Service to try and help with combating some of these other issues i was suffering with
IESO Online Therapy Sessions
in this section i will go through each session and expand on the story providing imaging where workbooks are needed
on Wednesday, 29 March 2023 – You created an account – welcome!
IESO Online Therapy Session 1
Wednesday, 12 April 2023 – Appointment completed Spoke with Priti Smith
this session was mainly an introductory session where we explored the reasons why I joined therapy and what i expect from the service
So, reading your self referral form and looking at your scores from the
questionnaires you completed, it looks like low mood and anxiety aggravated by
your ADHD are the main issues. Is that right?
11:02
LH
Yes I think that score would be accurate 
11:03
PS
Would you say the low mood is more problematic than
the anxiety or vice versa or are they quite similar in terms of how they impact
you?
11:03
LH
The anxiety starts when I'm unable to keep up with
my workload or unable to complete tasks I know I can…
Because I'm anxious it then causes low moods and i start feeling useless 
11:04
LH
So the anxiety first followed by low moods 
11:05
PS
I see, it sounds like you're in a vicious cycle.
What sort of things make you feel anxious?
11:06
LH
100% I get anxious that I'm not able to complete my
new duties. I get anxious that I'll get demoted and won't be able to help
others in my industry. I'm anxious at home that my partner who is highly
productive and successful will judge me for having to go back down a role and I
get anxious that my partner will one day get rid of me because he always has to
pickup for me on chores around the home 
11:08
PS
It sounds like you worry a lot about what if
scenarios? 
11:08
LH
I do a lot of work reflecting on my past and speak
on stage too, when reading the reports, I often have flash backs and strong
emotions.
I've always been known to run 100 scenarios of a
single situation 
I get told I overthink a lot by friends, family and
other professionals at work 
11:09
PS
Is there anything else other than work which
triggers your anxiety?
11:11
LH
Honesty apart from what if scenarios at home
regarding not fulfilling house hold duties no. It's all work based. And that I
think stems down to me putting a lot of pressure on myself as a lost out on a
lot of education and opportunities growing up.
11:12
LH
Correction my studies stress me out too.
11:13
PS
I see, so there may be a connection there to make
up for lost time. What impact does your anxiety have on your functioning and/or
relationships?
11:13
LH
When things get real bad I
shut down from people and can become very reserved, irritable and it feels like
I shut down to "Recharge " I'm just unable to do anything at this
stage.           On a day-to-day basis I get
anxious and I just stress, and worry I'm not doing enough and that I can't
reach my targets.  Some mornings I don't even want to go to work and try
and avoid tasks during the day.
11:17
PS
That must be physically and mentally draining for
you?
11:18
LH
It is which is when I become overwhelmed it takes a
lot for me to get back on track. But by that point the tasks have built up
again and I slowly go round I  a circle again.
11:19
PS
You also mentioned an operation on your self referral form?
11:20
LH
Yes, It's been rescheduled
annoyingly but my latest appointment is now November…. *Redacted by author
– The Thing"
11:22
*Redacted by author – The Thing" I'm waiting for a date for the operation 
11:23
PS
Would you say you find it difficult to control
uncertainty in your life?
11:23
LH
Yes, as well as needing strict structure in my
life 
Either uncertainty or not having structure leads
everything to fall apart 
11:25
PS
Do you ever avoid situations due to your mood?
11:26
LH
Yes, unless I've got work then I need to go. But
then I'll avoid tasks because I'm not feeling great 
11:27
PS
Do you ever experience low motivation?
11:28
LH
Most days, even if I want to and know I can do
tasks it's a battle… often I can tackle a few tasks and then I run out of
motivation 
11:29
PS
Are there certain tasks you struggle with more than
others? 
11:29
LH
I wouldn't say i struggle
or am unequipped to complete any tasks that is given to me. But my brain just
avoids or wonders off. Especially now I'm the manager and no one is watching
over my shoulder making sure it gets done.
11:31
LH
But if that is considered a struggle then there is
no correlation to the tasks and mood / if it gets done or not.
11:32
PS
Regarding your ADHD diagnosis, was this diagnosed
by a medical professional or is this a self diagnosis?
11:32
LH
Medical professional at the age of 5
From camhs
11:33
LH
I was medicated from 2003 (7) until 2012 (16)
11:34
PS
What coping mechanisms do you use to help you
manage your low mood and anxiety?
11:34
LH
I just give myself time, listen to calming music /
white noise. Avoid situations where possible that will make my anxiety and mood
worse 
11:36
PS
Do you ever use alcohol or drugs to help you manage
your symptoms?
11:36
LH
I used to be addicted to drugs. I'm recovering
addict of cannabis (just under a year) and synthetic cannabis (5plus
years) 
I drink about 10 units a week
11:37
PS
Before we move onto goals, is there anything else
you would like to mention?
11:38
LH
I don't think so
11:38
PS
At ieso, we use cognitive
behavioural therapy as the main therapeutic model. Have you come across cbt before?
11:38
LH
I don't think so, in the past I've had dbt though as a kid
11:40
PS
For your information..CBT
is based on the concept that your thoughts, feelings, physical sensations and
actions are interconnected, and that negative thoughts (self
doubt, what if worries) and feelings can trap you in a vicious cycle. It
aims to help you deal with overwhelming problems in a more positive way by
breaking them down into smaller parts. You are shown how to change these
negative patterns to improve the way you feel. 
Dbt is based off CBT! 
11:40
LH
Sounds great :) 
11:40
PS
What would you like to see change with the help of
CBT?
11:41
LH
Become less overwhelmed, break the circles of
anxiety and stress. Be able to cope with work tasks better? 
I would love to be able to finish my too list 😂
11:42
PS
Good goals. Just a couple of more questions. When
was the last time you had therapy? And do you have any other diagnosis other
than ADHD?
Thank you.
11:43
LH
I was sectioned under the Mental Health Act
"NHS Slam" when I was 15 my last therapy was when I was 16 / 17 when
I had forensic psychology assessments  
11:45
LH
I didn't get a diagnosis although in hospital there
was a few that I was temporarily put under
11:46
LH
I would have to look it up again in the files I
have 
But they didn't stick around anyway 
11:47
PS
Thank you. That's really helpful. What I'll do is
have a discussion with my supervisor (as per service protocol) and get back you
regarding what we can offer. As soon as my supervisor gets back to me I'll send you a message. This should be later this
week. 
Before we finish, is there anything you would like
to ask me?
11:47
LH
I'm very thankful for your time and help Priti
Look forward to hearing back 
11:48
PS
Not a problem. It's been lovely
chatting to you. I'll be in touch soon, bye.
IESO Online Therapy Session 2
Appointment completed With  Colin Wheeler
Hi Li :) 
19:00
LH
Hi coilin
19:01
CW
Nice to meet you – how did Manchester go ?
19:01
LH
Nice to meet you too, the public speaking event
went very well and they enjoyed and found my story inspirational… although
that's not a word I particularly like. I'm glad it was helpful for them.
19:02
CW
That sounds like great feedback, how did you feel after
delivering it ?
19:03
LH
A lot better than my first story… People was
shocked when I told them it was only my second time speaking in events… but
it's my life, I know it best. 
19:03
LH
I needed less time for self care
which was nice.
As I learned a lot from another life story public
speaker about preparing before and after the event 
19:04
CW
It sounds like it was really helpful experience for
future as well – do you have any more lined up or has this prompted you to want
to do more?
19:05
LH
I've just secured a contract for a virtual event
with an nhs trust up in
North to speak to the clinical transformation team. But I've had a few
charities in mental health reach out to me too. 
19:06
LH
I want to do more. But it's never going to be a full time thing.
19:07
CW
What a great experience though ,
especially for others as well it sounds – from the feedback and educating
others :)
Today will be about  further exploring concerns you may have, how
they have come about and answer any questions you may have as we
go.
If I see you typing I will wait for you to complete
before responding, and please don't worry about grammatical mistakes.
How does this sound? 
<![if !supportLineBreakNewLine]>
<![endif]>
19:08
LH
It's been nice 
No worries at all look forward to your
questions 
19:08
CW
Great – so I have read your assessment and self assessment
, also the doc. you suggested which was really helpful to get a further
backdrop.
I understand that you expressed feeling overwhelmed in your assessment with
jobs and often take on alot of tasks
, is this right ? I am curious what you would like to be different about
life – how would we know it was a success this episode of therapy?
19:10
LH
I'm glad the documents etc was helpful for you. Yes your correct as a house coordinator in a 16-25 year old
semi independence care home for care leavers I hold the whole responsibility of
the staff and young people in my care.   So
lots of responsibility and work. I find it very hard to balance and navigate my
duties. Before when I was a support worker I had
people giving me structure.  But now I have no structure or anyone to
guide me through this.  
19:13
LH
When tasks build up or I feel Like I'm not
completing my role or duties I get overwhelmed, which leads to anxiety and
depression. Some days it's so bad I can't complete my duties even at home.
19:14
LH
And like you found out last week i often crash out and nap during the days due to exhaustion
from worrying / anxieties 
Although I also have an adhd
diagnosis… and I think this is what causes most my issues.
19:15
LH
Honestly I don't know what to expect. From these sessions.
My GP offered me anxiety pills and honestly I spent
most my childhood medicated. I just want to find over ways to deal with it instead
of medication. Medication just masks the issue. And dose not solve it.
19:16
CW
This is really helpful :) I wonder since taking on
these new responsibilities as the house co-ordinator (in some ways the opposite
to being support worker , as you now set the
structure) .
How long have you been in this post as a house co ordinator ?
19:17
LH
Exactly. I have an area manager who's supposed to
support me but she has too many houses to manage and we are going through Ofsted
regulations as a new applicant so she is far to busy
to baby sit me.
19:18
LH
I've been in this role since January now. But I've
been working in this sector since 2017. Starting off doing it and admin and
then moving to support worker, and now house coordination 
19:19
CW
I suppose this is a significant step up from your
description and understandable may feel overwhelming – although very rewarding , a responsible position .
I wonder since taking this on this role , have you had
to sacrifice others aspects in daily routine or is it a case taking more and
more on ?
19:20
LH
I do enjoy the new job and find it rewarding when
I'm making a difference to young people's lives. I didn't really want to do the
role to be honest when it was first offered. (My previous manager is on
extended medical leave) but I was the most senior member of staff and I've
almost finished my NVQ 4 in residential child care so it's the natural
progression of the Job 
19:22
LH
I still do my 40 hours a week. But I have less time
to spend with the young people. 
19:23
LH
So i have to balance both
aspects. We are lone workers so it's not like I can get another member of staff
to assist them. If I'm at work and they need me. They need me.
19:24
CW
Of course , is there a
sense of setting expectations or targets for the day (that you or manager
set)  , which are just not possible or would push the boundaries of what
is possible ?
19:25
LH
Sometimes, but not all. But my tasks always seem to
be huge. And I can never get the energy to complete the new tasks. Because of
the adhd my attention is short and my concentration
is hard to grip at times. So long drifted tasks like completing reports and
preparing for audits are always pushed back.
Task list 
19:27
LH
If a young person needs me during an important task I need to drop it, and this breaks my cycle of
concentration. Or motivation.  And sometimes i
can never regain it back in the day
19:28
CW
It sounds like a fine balancing act
, and soemtiems there are unexpected
events/young people needing support – as in the nature of your role .
I wonder do you ever create a plan or have a planner for the shift
? Write down a when things need to be done by certain times (or set
times for tasks)
E.g. 9am- 9.30am (first section of a care plan)
19:30
LH
I do have a app on my
phone, it's not much of a planner but it tells me which tasks I need to do,
when the deadlines are and has priorities of the job on it.
19:31
LH
I just checked and I have 56 tasks to complete most
of them are overdue 🙃 
19:32
CW

Yes and I suppose , this overwhelming 'mountain' of
tasks – may feel unachievable , creating this feeling of 'failure' which I
think you described really well in your self assessment
– leads to avoidance all together . Is that right ? 
19:33
LH
That's correct. The bigger it gets the more I avoid
the tasks I'm assigned. I hate looking at the app now. It's more of a reminder
of how bad I'm managing the new role. But I've got the ability to do the tasks
I'm given it's just it builds up to quickly and never seems to end.
19:35
CW
Yes really well put and the more we avoid the more
the tasks build up , creating this vicious cycle of
avoidance-> more work -> avoidance.
I wonder if we approached this slightly differently and before a work shift
sifting through the tasks and choosing what is a 'priority' is 'needed' to be
done as a matter of urgency'
Making a sub list to complete , rather than avoiding
the much larger list. By doing this and reframing the list we can create this
sense of achievement that you have completed what you set out to do , it releases that feeling of accomplishment and reaching
a goal . What are your thoughts ?
19:38
LH
So Creating a planner? Im up
for giving it a go and trying anything to manage and become the structure I
need for myself. And my team!
19:39
CW
In a way yes – a 'To Do' list (daily) . As I can really hear that the app is really helpful in a
sense of keeping track of what needs doing , but also
demotivating – as it never ends !
19:40
CW
The idea being that you set what needs to be done , making the list achievable and realistic – we want to
create a sense of completion , success – Motivation works backwards we need to
succeed and accomplish – before we generate motivation. (We would like to wake
up motivated and do everything , however unfortunately
that rarely happens – we need to do before we feel) Does that make sense?
19:42
LH
I like the idea, and I guess I could start of with a few easy tasks which leads to some motivation and
a sense of accomplishments which hopefully will then allow me to take on some
of the more demanding tasks without losing focus? 
19:44
LH
I get what you mean by creating a daily list. I
will look into what technology is out there to assist me to plan my days
instead of looking at the big list of tasks all day every day.
19:45
CW
Yes you've got it !
There is no point starting with something that is unachievable – E.g. Complete
all 56 task before lunch :)  , as this would lead
to avoidance and we become further and further behind.
Sometimes a 'To Do list' off etsy or any other
stationary shop can be really helpful to aid in planning or listing before the
shift maybe.
Would you be up for giving this a go ?
19:46
LH
That sounds great  it's
certainly worth a try and something I will try. Thank you
Colin.
19:47
CW
Your most welcome – I am going to send 3 more
sessions across now and we can catch up next week and discuss and go from there ?
19:47
LH
That's perfect.  I apprechiate
your help. Speak to you next week.
Would you like my availability now or later?
19:48
CW
Now would be great :) 
19:49
LH
I can do wensday evening,
or Friday all day. As well as the weekend.
19:50
CW
Shall we stick with this time for next week ?
19:50
LH
That would work well.
19:50
CW
Great -do you have any questions so far Li , I know it can be a lot to take in for the first session
?
19:51
LH
It's not my first time in therapy lol 😆  I've got no questions right now but if anything comes
up I'll drop you a message and we can speak about it next week :)  ~
thanks again for the new insight into handling my work load
19:52
CW
Your welcome – :) I look forward to working with you ! Bye for now !
19:53
LH
Bye
IESO Online Therapy Session 3
Appointment completed  – With Colin Wheeler
Hi Li :) 
19:00
LH
Good evening colin
19:00
CW
How has your week been ,
what have you been up to ?
19:00
LH
It's been quite a busy week. Training a new starter
and learning how to do supervisions 
Hope your okay 
19:01
CW
That sounds interesting ,
yes I am well thank you . Did you have any time off over bank holiday ?
19:01
LH
That's great, just the weekends. I worked both Bank
Holiday Mondays 
19:02
CW
Hope you had some time to relax :)
Li I thought we could set a bit of plan today as we jumped straight into some
ways of managing workload last week and thought we could discuss in a bit more
detail CBT and what it involves – I understand you have had therapy before –
have you had CBT ?
19:03
LH
I relaxed okay. Sounds good to me Colin. Not CBT
but I've read I've received DBT which is similar but at a young age 
19:04
CW
Ah I see -yes your spot on ,
DBT and CBT have shared values and principles -would it be helpful if I gave a
quick recap of CBT with a brief example of how it may relate to what we
discussed last week ?
19:05
LH
Sure thing that would be handy to refresh my mind 
19:06
CW
Here at ieso we offer
text/writen CBT, CBT is a time limited brief therapy
focused on what we can change in the here and now. That is not to say the past
isn't important and we consider past events and what has led up to this point –
during therapy we look at what is possible to change and slight changes to
behaviour and thoughts. We look at what you would like to achieve and work
together to get you to that point or as close as possible. CBT (Cognitive
behavioural therapy) is a type of therapy which is focused on thoughts,
feelings and behaviours and how they interact with each other and what impact
they have on one another. Sometimes certain behaviours or thoughts can have an
impact on how we feel and visa a versa.
E.g. The thought ''I cannot do this , whats the point '' this may lead to feelings of
un-motivated, tired, lethargic and this may have a negative effect on our
behaviour such as staying in bed, not going out , reducing attempting workload
,avoidance , hiding from workload  Furthermore, adding to the negative
thoughts and the cycle continues.
19:07
CW
I wonder if this feels familiar to the situation we
explored last session ?
19:08
LH
This makes a lot of sense to me Colin 
I understand 
19:08
CW
How have you got on over the past week in regards
to workload ?
19:09
LH
It's reduced, not a huge amount but using a digital
planner seems to work. Although im now struggling
with incorporating it into a habit. Something that I proactively plan the day
before work. And then using it during work.
I've not tried to utilise it at home yet.
19:10
CW
I am curious what home life looks like , in regards to workload, chores , tasks – does it
follow a similiar pattern ?
19:11
LH
Very similar pattern… mainly chores, hobbies like
gardening and changing the fish tank water. The clean clothes pile is the worst
task of my personal life.  Also I do a lot of
cleaning at work, so I always want a break when I'm at home. Or over sleep /
compensate on rest 
19:12
CW
This is really helpful – you gave a really clear
idea of a goal last week 'Wanting to manage workload'
I suppose if this was achieved – what would life look like ?
How would we know you had achieved this ?
19:14
LH
That's a good, but hard question too. 🤔 
19:14
LH
I guess i would be able
to do things without feeling so overwhelmed and less tired. Things would just
flow. Instead of me finding everything  a
burden 
19:15
CW
When looking at everything that you have on your
'to-do' list home and work life – if we were to metaphorically step back and
look at what you hope to achieve and the time you have in the week – is it realistic ? I suppose what I am asking is it possible to
achieve?
19:16
LH
I don't know… I would like to think it is.
19:17
LH
I waste a lot of time procrastinating or worrying
so I'm sure it is.
19:18
CW
Ok this is really helpful to be aware of – I am
curious while you are procrastinating are you able to fully relax – or are you
thinking about the work / tasks you should be doing ?
19:19
LH
I'm thinking about the tasks and avoiding them
still. Or I forget / avoid to check my todo list/
planner. I'm unsure which one really matches exactly. Some days I'm clearly
avoiding other days I genuinely forget because im
preoccupied from the get go.
I do relax at home… but this is why the home
tasks get neglected too.
19:21
CW
I understand – I suppose what I can hear is that
even when avoiding occasionally we are still thinking about the tasks that need
doing.
And when you realize you are behind , what sort of
thoughts do you have about self , the work that needs doing – can this become
negative?
19:22
LH
When I'm thinking about the tasks i need to do I worry and think that I'm not doing enough in
my job I get stressed, anxious and overwhelmed.  
19:23
LH
Although as a note. In my supervision yesterday it
was raised that I am overly critical of myself and that I am doing great in the
circumstances that I become manager. My supervisor also acknowledged that they
have been neglected due to their own workload.  But has arranged for some
more support to be put in place from other managers 
19:25
LH
That I have been neglected with support 
19:26
CW
Ok wow ! That is great
feedback – I wonder how that felt hearing that ? 
19:26
LH
It was reassuring. Although it didn't ease my mind
much.
19:26
LH
I've been a looked after child in a neglected care
system. So I think I put a lot of pressure on myself
to do everything I can.   I Live by the motto "Be the person you
needed when you was younger"  – but I wonder
if I take that saying too seriously 
19:28
CW
I suppose from what you describe – you may have
been trying to achieve something which was not possible due to lack of support
– creating this feeling of 'falling short' ?
Perhaps , I suppose can you do anymore
than your best ?
19:28
LH
100% I've been thrown a lot of tasks that I can't
actually do. I've never been a manager and have no leadership skills. I require
stability and am the stability for the team too… 
But yeah, I'm doing my best but it's always in the
back of my mind that my best is not enough….
19:30
CW
Yes ! Really well put , I think
you hit the nail on the head here .
You are in a new position , something you have never
done before – it would be impossible if you were an expert in something you
have never done before :)
19:31
CW
I suppose is it normal to have some nerves starting
a new role and take time to develop into the role ? I
am just thinking about the worker you are superivsing
he may be feeling slightly similiar
19:32
LH
Maybe they do feel the same… maybe I'm just over
thinking things… 🤔 but I've never felt this way
before in other positions. Nerves is one things. But
anxiety, overwhelmed and feelings that I'm
not doing enough.   And most importantly after 3 months I'm
normally settled. It's been 5 months of constant dread.
19:36
CW
I can hear it sounds like it has been difficult and
maybe the extra support will come in handy and be what is needed to help you
feel settled into the role .
I suppose what we can do is look at initially making your time as effective as
possible.
I would like to introduce is an idea called "behavioural
activation" This concept works on the theory that motivation works
backwards. We would like motivation to appear when we wake up and then get lots
of jobs / tasks done – however from what you describe this highlight this does
not happen. Motivation works backwards, we need to do the task or activity
first and then we experience a feeling of achievement or pleasure from the
task. BUT, thinking about what you said aswell we can
have some really good ideas of what we would want to achieve some days and over
plan or overfill and set expectations which just aren't possible with the way
we are feeling E.g getting up doing all the chores,
speaking to friends and washing and sleeping at 10pm. The thought of this feels
really unachievable and creates the feeling of failure which further compounds
the feeling of 'there's no point starting'.
What we can start to do is set very realistic goals initially and create some success , which hopefully create a sense of achievment – kickstarting motivation
19:39
CW
I wonder if you would be up for completing a diary
for the next 7 days , (I can send you one)  So,
using this knowledge we need to get a really good overview of the week and
start to make subtle changes gently and with the view that these are realistic
and possible. what are your thoughts ?
19:40
LH
I'm happy to start a diary 
But I'm not sure I can remember to do it all the time  😑 I'll try my
best 
19:41
CW
I am going to  send
over a diary, and it is a pdf editable version and can be downloaded, I find it
easier to complete on a computer. If you could return prior to next session we
will be able to review it together.
It just highlights morning, afternoon and evening, but also asks you to record
what activity and how you felt at the time E.g. 0-10 achievement, pleasure and mood . It would be great if you could give a go and we could
start to look at the pattern or any difficulties that may occur and how we
could adapt and adjust. Like you mention it will capture how time is being
spent and how we can adapt this and question next week how useful some of the
activity is , and adjust accordingly .

<![if !supportLineBreakNewLine]>
<![endif]>
19:42
LH
Thanks Colin sounds good to me.
I'll upload it onto my tablet which is where I do
my notes, planner and todolist 
19:43
CW
I suppose this will give us a really good idea of
what is possible – and how time is being spent .
Do you have any thoughts what we will see , E.g.
procrastinating , lost time
19:44
LH
Lost time / worrying and hopefully some good notes
over the weekend as I'm seeing the family and some friends 
19:45
CW
That sounds nice and needed.
Once we have this diary , we can then start to
structure and schedule what 'needs' to be completed and then plan around this –
creating structure . Is this something that you would find helpful?
19:46
LH
I think it could open up some insight into how my
brain works… I'm willing to try anything that may help.
19:47
CW
I wonder Li , do you tend
to give yourself a hard time , you mention being self
critical ?
19:48
LH
Yes   😂 I'm always giving myself a hard time. I hate it
too. But I'm very hard on myself and always think I'm not doing a lot….. but I think I know why. And i
don't think CBT can solve that.
19:50
CW
:) Why may this be , I am
interested to hear your thoughts?
19:50
LH
Honestly Colin. I lost so much of my childhood, and
school years due to a bad upbringing, mental health issues and self harm. I was sectioned at aged 15 was not allowed to go
back to school so got no grades. Addicted on drugs aged 17 homeless aged 18 and
spent the next 2 years in and out of work trying to fight being homeless
again  
And then I finally met my partner aged 20
19:52
LH
And things got better 
I've lost over half my life due to mental health
issues. I'm always trying to catch up
19:53
CW
I cannot imagine how that was for you – Yet you
have carved out a managerial role at work and continue to support others , I wonder if this is real proof of how you are changing
the direction of life ? 
And what you are capable of
19:55
LH
It's certainly a change of direction. But it's
always in my mind that I'm behind. I can never catch up. And I could have
already got past this stage. 
19:56
CW
I wonder if we are comparing self to somebody we
can never be?
19:57
LH
Sounds probable lol.
19:57
CW
:) We can think a bit more about this in future
weeks and discuss thought patterns :) 
19:57
LH
Thanks Colin. It's been very insightful and thought-provoking
session.
19:58
CW
Glad it's been of use – I look forward to speaking
next week :) I will send 3 more appts across now !
19:58
LH
Thank you. 
19:59
CW
Bye for now !
19:59
LH
Bye take care 
19:59
IESO Online Therapy Session 4
Appointment completed With Colin Wheeler
Colin Wheeler started the
appointment.
CW
Hi Li :) 
19:00
LH
Good evening colin
19:00
CW
Thanks for sending over the planner earlier :) How
has your week been?
19:00
LH
It's been OK thanks Colin. Some stressful parts but
also some really good parts 
19:01
LH
Yourself?
19:02
CW
It has been good thanks enjoying the sunnier weather .
I wonder if we think about the planner today and think about the stressful/good
parts as we explore the diary.
– Explore the diary and identify what worked , and
what could be adapted
How does this sound?
19:03
LH
Glad you've had a good week. 
Sounds good to me 
19:03
CW
So last week we started to explore weekly activity
and you described feeling overwhelmed with jobs and tasks that needed completing . Other staff members suggested that you had been
doing really well with the level of support that had been given and acknowledged
that they had not supported you as much as they should have been
.
We set the task of completing a diary to get a overview of the week and what activity looked like
and how it was being spent.
I wanted to get your thoughts about the week and what you have recorded – did
anything surprise you ?
19:05
LH
I don't think I found anything of surprise the bulk
of my bad days lead into work; and the tasks I'm doing. But I also make
positive and good moves at work too. I often find myself dragging myself to
work. And doing odd jobs on my days off to "survive the workload"
19:07
LH
I also find I may be drinking more then I may think
I have done
And drank at the weekend. Mid
week too.
19:08
LH
But never excessively 
19:09
CW
I am just curious if you are noticing it the next
day (that feeling of sluggishness) 
19:09
LH
Only in the  weekend.
I didn't this morning although I drank yesterday 
19:09
CW
Work sounds and looks very busy ,
with it taking up the bulk of your week . This week in particular looked pretty
jam packed , are most weeks that busy ? 
19:10
LH
Yes, sadly I'm a balancing act as previously
stated. And have to do both roles of support worker and house coordinator 
It's getting worse as we are preparing for ofstead. 
Hopefully post registration things will calm down a
bit
19:11
CW
I was about to ask , as
you will be the expert in your role – and I wonder if this level of work
sustainable 
19:12
LH
We had a managers meeting
with upper management today. And it seems like we are all having the same
problem. 
19:12
LH
I did ask if we would ever have a second staff so
we are less of a balancing act but they explained the budget dose not allow for this to happen
19:13
LH
My conclusion is that I'm honestly not sure it is.
19:14
CW
I wonder how that felt knowing that others are
having similar issues ? And that it is a shared
problem rather than a reflection on you 
19:14
LH
A bit more reassuring for sure. But also it makes me worried. I want to fulfil my role and do my
job. 
19:15
LH
And I've worked in a few 16 – 25 residential homes
over the past 5 years. And this is the best one I've worked in. So it gives me little hope for the future. And makes me
question if I'll ever feel satisfied with my work in this sector
19:16
CW
I wonder what your expectations are for the role
and the sector ? 
19:17
LH
To fulfill my duties of
managing my staff and overseeing the work being done with the residents in my
home.  And the sectors goal is to integrate thr young person into an independent life. And to allow
them to play a  productive role within
society 
19:19
CW
I wonder if you are doing that to the best of your ability ? Can you do any more than that ?
19:21
LH
That's true.
I guess I can't do more then
my best.
19:21
CW
It sounds Li , that you
have a real passion for this role – which is great and a really want the best
for your YP in the residential care .
I wonder if you find yourself becoming self critical
and giving yourself a hard time – when you have done everything in your power
to help ?
19:22
LH
I really am passionate about my work, and my role.
And I do, try my upmost best to do everything I can Colin. I certainly have a self critical thinking and have
always given myself a hard time at work. And in my personal life.
19:24
LH
But it doesn't stop me having the issues of never ending tasks and stress relating to that…. the only
thing I can do is demote myself or change sector which I don't really want to
do….
And I still have days where I just get paralysed
from workload and avoid everything 
19:26
CW
A couple of really key points here
:
I wonder if we are wanting to complete all the tasks and have everything
'complete' at work – I suppose in the role and sector you are in , will there
always be tasks to be completed – is that the nature of the role ?
19:28
LH
Yeah generally there is always stuff that needs to be
done, new priorities or goals. Updates to risk assessments/ support plans.
Targeted key working sessions. Weekly and monthly reports. Absence forms, misper forms health and safety checks. Supporting the YP 😄  that's just some of the paper work without the supporting
aspects 
19:30
CW
Perhaps we are wanting something which isn't
achievable for there to be 'no outstanding tasks'  when
there is such a high workload to complete and is constantly being generated?
19:31
CW
Which I can really hear could be frustrating
, trying to achieve the impossible?
19:32
LH
So as the CBT therapist. How do I rewire my brain
so that I'm less critical and more accepting of the fact that this is just the
reality of my job? And that it's okay not to have everything done?
19:33
LH
Because I'm always blaming myself and taking it out
on myself that I'm not perfect. And can't complete my workload 
19:34
CW
Great question :)
So firstly we need to acknowledge that we may be setting self a up to 'fail' by
trying to achieve the impossible – and just step back and look at what is
possible – what is a possible , what is within your
power E.g. work to the best of your ability , and continue to care for the YP .
What more can you do than that ?
19:35
LH
I'm not 100% sure how to respond to that. But I
guess it makes sense.
19:38
CW
I suppose we are just starting to question what is possible . Blaming self an giving self a hard time .
In regards to your second question .I would like to
introduce an  idea  called Negative Automatic Thoughts (NATs) -Negative
thoughts are very persuasive
-They just "appear" in your mind, out of nowhere.
-They are not strictly true, and do not match the real facts.
-They are unhelpful – they stop you fighting the anxiety.  -They are
seductive
– it is easy to fall into the trap of believing them.
-They seem overwhelming, and very difficult to dismiss from your mind.
– Negative thoughts can appear at any time they may be spontaneous or follow a
misfortune.
Our thoughts are incredibly powerful , as the way we
think directly impacts how we feel and what we do as a result. As highlighted
above NATs can appear like facts and lead us to spiral and start to look for
evidence that supports the NATs and at times disregard any positive or
contrasting evidence. NATs can appear fixed , with
very little room for flexibility. E.g. I should have done better
, I am not good enough'
I wonder if NATs sound familiar ?
19:40
LH
Yes, I guess it relates to my self
criticism and when I give myself a hard time.
19:43
CW
And I wonder when you give yourself a hard time –
do you accept these thoughts and criticisms as facts and true?
19:43
LH
I do.
19:43
CW
And are our thoughts facts or opinions?
19:44
LH
Honestly, more opinions but the more I think about
it. It becomes true. To me at least.
19:44
CW
Ok that is interesting and really well captured – I
wonder when we have these thoughts , do you start
looking (mentally searching) for evidence that supports these thoughts E.g.
this happened before , this happened then . 
19:45
LH
I can do, but it's more the fact that it manifests
my head so much, and I'll find anything to link and reinforce the thought.
Until its embedded in me. " I am not doing
enough" – because I have 40 items in my Todo list for example.
19:48
CW
And I wonder how often do look for evidence that
doesn't fit the thought , opposing evidence ? Evidence
to suggest you are doing all you can ?
19:49
LH
Not often. – and even when I do get good feedback.
It doesn't always register.  As well as being self
critical, I'm not the best person for taking on compliments 
19:50
CW
Yes ! So i wonder if we really
take on board all the negative thoughts and 'accept them and believe them' and
any opposing evidence we tend to ignore or filter out ?
19:51
LH
That's sounds likely.
19:51
CW
How might this affect how we view self ? 
19:52
LH
I guess it gives me a distorted view on how well
I'm doing. An unrealistic outline on my progress and performance
?
19:53
CW
Spot on :) ! Really nicely
put
We start to create this distorted view of self , with
only one side of the argument as we have dis-regarded any positive or opposing
information to that thought – creating a skewed view of what you are actually
doing.
You highlight what we call 'thinking traps' a cognitive distortion
, which is a pattern of thinking which keeps the negative view of self going – even if not accurate !
What I would like you to do is over the next week , is to have a look at the
sheet I am going to send over and just identify which 'thinking traps' you can
relate too and we can discuss next week – how does this sound?
19:56
LH
Thanks Colin. Sounds like a good plan to me
19:56
LH
Did you see my message regarding my holiday and
absence from therapy? 
19:57
CW
I did thank you – Japan sounds exciting a well
needed break !
Looking forward to it ?
19:57
LH
First time abroad. Can't wait at all! I've always
loved Asia 
19:58
CW
Sounds great you will have to tell me what it's
like :)
Lets catch up next week and go from there :)
19:58
LH
Thanks Colin 😊 
19:58
CW
Bye for now!
19:58
LH
See you next week.
19:59
IESO Online Therapy Session 5
Appointment completed With Colin Wheeler
Hi Li :) 
14:00
LH
Good afternoon Colin,
Thanks for resuming sessions with me. and not striking me off. i am once again very sorry for missing our last
appointment. its once again a big issue i have where i can get times and bookings mixed up.  hope your doing okay
14:00
CW
I am well thank you – no worries at all . How has the last couple of weeks been
? 
14:01
LH
glad your
doing okay. Last week was a bit hectic. new staff that are really struggling
(Probably not suited well for the role) and having to correct / teach them
about mistakes that they keep making them. and reinstating the reasons why we
do things that way.  i'm on day 2 of a triple
shift. But its been very
peaceful so far. just getting everything ready for my absence 
14:03
CW
It sounds like you are working incredibly hard in
prep for your holiday , hope it stays peaceful for
you.
I thought we could pick up from last sessions and make a plan
:
– Exploring negative thinking and thinking traps
– Begin to challenge unhelpful /inaccurate thoughts
How does this sound?
14:04
LH
thanks colin! me too.
Sounds like the best way forward to me. i look
forward to the session.
14:05
CW
Great :)
So we really started to unpick thoughts and thought patterns last session and
discussed NATS (negative automatic thoughts).
You described being self critical , giving self a hard time , sometimes setting expectations
which may not be possible -leading to feeling 'not good enough'.
I got the thinking traps that you sent across that felt famliar , I wonder if you
experienced any negative thoughts over the past week, if so what were they ?
14:07
LH
i had a situation at work yesterday where i did not really actually have much to do. mainly as it was
a Sunday. and i've managed to get my manager to
withdraw delegation as she knows that I'm going on holiday. (and
would be setting unrealistic deadlines) but i felt
guilty / upset that i was not doing enough. and that i had too much free time.
I also keep comparing myself to others, it really sticks with me that my past
has stunted my professional growth.  my partner notices this as I compare
his success a lot with mine.
we have a new resident coming to placement (was supposed to be last week but its now been delayed) Redacted
by Author "Sensitive information" when doing the risk assessments I've been
told by upper management that i can get carried away.
"Make an issue sound bigger then it is" Or
without proper evaluation. im unsure if its me making Mountains out of molehills or just lack of experience.
14:13
CW
Ok so this is really helpful that you have captured
this.
Let's start with 'comparing and despairing '
As it sounds like you are comparing your success to partners – I wonder what
happens when you do this ? How does this feel ?
14:15
LH
im glad its helpful. – when
i compare myself with others it dose not make me feel great. (but
i guess its me filtering
out what i want to see) i
process that this person has done better then me (And
they are younger) But also that they have better upbringings. i do feel that its more me reassuring myself im not good enough.  or that I'm not successful /
could have done lots better with my life. 
14:18
CW
Perfectly put and perhaps you are only looking for
aspects that you perceive they are excelling in . It's
a bit like 'cherry picking' others attributes and then comparing our flaws to them . We will always feel 'less than' if we do this.
You raise a really good point , are we only look for
what we don't have – are there things that you have that partner doesn't or
skills that you have that others don't?
14:20
LH
 yeah its certainly a cherry picking aspect. which makes me feel
less than.
Its never the reverse.  im
only picking out things that i have flaws in.
14:22
CW
That interesting isn't that we are almost setting self up to fail.
It's a bit like finding someone who is more advanced than you in one aspect and
continuously comparing only that aspect to them , but
ignoring all your other skills and attributes.
Is anyone else making these comparisons or is it just you comparing the certain
aspects?
14:24
LH
yeah I guess so.  and we both have different
skillsets so its interesting how my brain dose not take that into consideration when i start comparing people.
No one else is comparing me. at least not that i know
of.  but i do on occasions assume that I'm being
compared. and i can get quite snappy at this idea.
there has been a few occasions where i've assumed i've heard
something.  or even got the wrong end of the conversation and my brain can
jump into a defensive.
Its almost like its okay
for me to compare myself, but i don't like being
compared. (Sounds odd. i hope it makes sense)
14:27
CW
I wonder when you ay you
'assume' what others are thinking , could we be trying
to predict ',mind read' others thoughts , is this possible?
14:28
CW
say"
14:29
LH
its a possibility.  but its
not something that happens too often. but it dose often feel like my brain is working against me.
and wants me to be negative. so certainly a
possibility. 
14:30
CW
I suppose having this awareness that our thoughts
are not necessarily 'facts' is the first step – maybe starting to question
their accuracy before we accept them.
If you were to compare yourself to anyone , would it
be more effective , measurable , fair – to compare yourself to 'Li of 12 months
ago' rather than someone else in a different circumsatnces?
14:32
LH
yeah thats true. as they say
acknowledgement is the first step to recovery.  –  i will try my best to question them for sure.
I like this idea of comparing myself in the last 12 months….
Although it just came to my attention that i could  maybe relate too…
As you know i do a lot of life story work, and over
this year i've been doing a lot of work on my
Chronology. the only issue is i think i could have taken the wrong approach which is maybe why im feeling so bad this year.
As part of the public speeches i do i focus on my past 18 and under.  which is the horrid
part of my life where i fight with neglect, trauma,
drug addictions, mental health admissions, self harm
etc. maybe where i've had my head so far in the
"Bad Stuff" its consumed my thought pattern.
14:36
LH
i know i've always
struggled with a negative mind. but since January its been really bad. but this is around the time i also started releasing my chronology.
14:37
LH
maybe i need to work on
focusing on some of the positives that have happened to me. 
14:38
CW
Li this is very insightful and a very valid point
you make – revisiting the past can be upsetting and also reminders of past
experiences can provoke certain emotions.
I suppose it highlights just how much you have achieved since childhood and I
like the idea of taking time to acknowledge what you have achieved
, what you have accomplished .
Perhaps the chronology has focused on experiences that had happened to you and
not what you have gained from them and where you are now ,
managing a team , supporting others – many accolades which we may not be
recognising ?
14:40
LH
yeah it certainly could be provoking it for sure.
at the moment my chronolgy dose
not highlight many of the good things. the truth is their
is years worth of data i
could release just from my past issues. but i guess i could try and work on the positives and share them or
even document them in private until im ready to work
on that side of the stories.
it certainly dose not
focuses on what i've gained from it… its just telling the one side of the story right now.
once agian though it dose help in some ways but maybe its
affecting my overall health in other ways. for example
are more active Negative thought process
14:44
LH
but the chronology really is an important part of
my life and the story i tell. as well as the work i do outside of my day job.  so
its not something i can
drop easily either. as its part of my bigger and wider goal in life.
14:45
CW
Of course and we shouldn't ignore past experiences , I just wonder if we are filtering out achievments and maybe these negative experiences have made
you the success you are today?
14:46
LH
100% it has filtered out achivements
i think in the whole 90 timeline updates i've made only 5 are positive and then a further 60 blog
posts with again around 5 positive blog posts.
14:48
LH
the website is formed around the past Li, and not
really the Present Li
so maybe my brain is relating more to the past Li,
and reflecting of that.
14:49
CW
If we imagine our focus as a 'spotlight' (a torch)
and we only shine our focus on the negative , our achievements are always kept
in the dark , I wonder if we need to occasionally shine the torch on your
accomplishments and where you are today ? Otherwise we
develop a inaccurate picture of Li
14:51
LH
that 100% makes sense, i'm
just unsure how to approach it. 
14:52
CW
Perhaps over the next few weeks if you catch a
negative thought about self E.g. 'I am …….
'
Bring it to next session and we can start to question together and build up a
new accurate thought with all tthe info
, how does this sound?
14:53
LH
sounds good to me colin
14:53
LH
although im hoping i only have positive vibes in japan
lol.
i'll do my best to capture anything.
14:54
CW
Sounds good , of course –
maybe bring a negative thought from the past :) Enjoy the Japan trip !
Has today been helpful Li ?
14:55
LH
it has been very helpful and allowed me to realise
that my negative thoughts could be down to the way i
portray my life. and that maybe if i focuse more on my achivements
that the negative thoughts could reduce?
14:56
LH
my next free day is 19th June or 21st june.
14:57
CW
Yes perhaps we need to weigh up both sides a bit more , bring in all the evidence not just certain aspects.
We will look at this more next time , 21st june 7pm? 
14:57
LH
sounds good to me 
sorry its such a big gap.
14:57
LH
i booked this holiday on new years
day before i even started the therapy lol.
14:58
CW
No worries – enjoy yourself ,
look forward to hearing how it goes!
Thats all sent over please accept and we can catch up
then !
Have fun , bye for now!
14:58
LH
take care colin. thanks once again for a great
session!!
14:59
CW
:)
14:59
IESO Online Therapy Session 6
Appointment completed With Colin Wheeler
Hi Li :) 
19:01
LH
Hi Colin!
19:01
CW
How was the holiday ? How
did you get on 
19:01
LH
The holiday was amazing I really learned a lot
about Japanese culture. And was amazed at the level of respect and discipline
the country has 
Apart from my feet getting completely blistered
from walking lots in humid weather I really had an amazing time 
Hope your
okay?
19:02
CW
I am really pleased that it was a success – sounds
like you got your steps in walking around Japan . I am
good thank you .
Thanks for your messages pre appt . That was really helpful , I was thinking when was the last break you had
before this ?
19:03
LH
Haha certainly.  😄 glad your
doing okay too 
19:04
LH
Well I take my holidays but I normally see the family
and that can be stressful enough on its own… I can't recall the last time I
had 2 weeks completely to myself.
19:05
LH
I took lots of photos for memories and to check
back on as an achievement too :)
19:06
CW
Yes and that is really insightful
, and perhaps something we can think about today :
– Working without relaxation …. What are the costs / benefits
– What happened to negative thinking while away , how
was it affected ..
How does this sound?
19:06
LH
Sounds good to me Colin :) 
19:07
CW
Perfect !
So before you went away – you described a really busy mon-fri working with some complex residents and emotionally
tiring at times – You also described always being 'behind' and never on top of
tasks.
I am curious now that you have had some time away , I
wonder if you can see work in a different light , has it put what is possible ,
needed in perspective?
19:08
CW
busy"
19:09
LH
I'm not 100% sure what you mean in the second
paragraph sorry 
19:10
CW
That is ok – I wonder how it feels coming back to
work after a break ? Does it still feel as tense?
19:10
LH
Certainly not as overwhelmed right now despite some
tense situations in the home I feel like i can tackle
it with a clearer mind and with a more positive outlook. As explained in the
email I certainly have caught up very quickly. Things are not perfect but I
guess I've realised that they may never be?
19:12
CW
:) Li 'Things are not perfect but I guess I've
realised that they may never be?'
What a great sentence ! I suppose how might it feel
trying to reach perfection and never getting there ?
19:12
LH
Not great. Overwhelming for sure. All the experiences
I listed prior to the last sessions and holiday. 
19:14
CW
Yes and perhaps we are setting self
up to fail , which like you say will impact how
we feel about work 'not great' .
I suppose perfection is impossible and especially in your line of work , supporting others do the best they can .
I wonder when you went on holiday – how did it feel to be away from work ?
19:16
LH
That's some very good points.
19:16
LH
It was lovely not to worry as much and feel as if I
was failing. I did reflect a lot on what I've done in the prior years and how
far I've come…. honestly 7 years ago I was close to be homeless for a second
time. And now I have a mortgage going abroad and spending those savings haha. As well as being in a stable and safe
environment 
And progressing in my career 
That helped most I think
Knowing I've done more then I acknowledge 
19:18
CW
Absolutely – And it is great to hear you picking
out those accomplishments , which are really
significant !
You mentioned comparing self to others last session, and you mentioned how much
further you would be if you had a different upbringing. It got me thinking how
do we know that ? Maybe the upbringing although
challenging has been part of you becoming the person you are today
?
19:20
LH
Yeah I've reflected on that saying a few times.
But I still have a curiosity of what the other path could have looked like. 🤔 . One thing for sure, it's allowing me to help
people in more ways then I
can ever imagine 
19:22
CW
Absolutely – And I suppose there is no harm in wondering , perhaps always coming back to those achivements , as like you say you have achieved and
continue to do so.
I wonder by having this break from work , has this
prompted any thoughts about regular breaks , more frequent , or ways to break
up the work ?
19:23
LH
I certainly want more holidays where I'm away from
work:) 😀 
19:26
LH
Sorry I'm on an on-call phone call so trying to
multitask 
19:27
CW
It's ok do you want a couple of minutes?
19:27
LH
It's not too bad. Haha 
19:29
CW
We started exploring negative thoughts last time
and begun challenging how true or factual they were .
I wonder by reminding and acknowledging accomplishments ,
was this helpful in building a clearer and truer picture of yoru
ability and life?
19:31
LH
It was helpful  for
sure for me tongo on holiday to refresh my mind and
to think about the achievements 
19:36
LH
I have listed some good achievements for my blog so
I can reflected on this and have some public
reflections.
19:38
LH
Sorry I'm back 100% now 
19:39
CW
What a great idea and perhaps way of cementing
these achievements in your chronology so they cannot be lost and there to
remember and look back on.
Li I wonder if you experienced any negative thinking
while away at all?
19:40
LH
Exactly! 
19:41
LH
There was some negative thinking but not to do with
work. If I'm honest my partner and I had a slight issue. Maybe more a
misunderstanding and failure to meet each others
needs.  And there was some issues with some of my
partners friends who where traveling g with us 
But no holiday is perfect and after the first week
me and my partner went solo and managed to make things even better.
19:42
LH
I still feel as if it was a worthwhile adventure
and refreshing for me.
19:43
CW
It sounds like you were able to problem solve them
together.
Looking forwards to the next week or two , will
you approach work any differently now that you have returned?
19:43
LH
I hope that in the next week or too I can keep the
positive thinking up and keep problem solving my struggles.  I'm not sure
what I would do if I find things get overwhelming again. (I only have a limited
amount of annual leave sadly 😄) although I feel great now and clearly should have
taken a holiday sooner. 😅, how do I solve my issues if I
can't take holiday?
19:46
CW
Great question as you cannot go to Japan every
fortnight unfortunately ! :(
I suppose the holiday highlights that perhaps time although limited needs to be
carved out for you (self care) whether that be with
partner or on your own .
From what you describe possibly some sacrifices of other activity may need to
be made so that this time is possible ?
19:48
LH
If only I could 😆 
I agree it dose show that
self care is certainly important for me and my mental
wellbeing 
19:49
LH
The only things I use my annual leave for is seeing
family and that's it normally. With the exception of this year. Maybe I can
plan my rota to allow me to see family on my days off the only issue is we
don't live too close by 
19:50
CW
Yes and perhaps there may need to be some planning
and re-jigging . Maybe even some shift in expectations
of what is possible . 
19:51
CW
It sounds like all free time is spoken for , perhaps there 'self care'
and downtime needs to be scheduled too ? And put as a priority as high as
others
19:52
LH
That makes a lot of sense. Thanks Colin.
19:53
CW
Li I am going to send 2 more appts across and
perhaps we can start to think how we continue this good habit of self care and how we can make sure we find time/activity , ways of keeping it included , as without it , it
sounds like everything becomes harder .
How does this sound?
19:54
LH
Sounds perfect to me thanks so much for the help.
Next wesnday same time  works well for me.
19:55
CW
Perfect all sent speak then !
Bye for now !
19:55
LH
Have a great week. Take care 
19:55
IESO Online Therapy Session 7
Appointment completed With Colin Wheeler
Hi Li :)
19:00
LH
hi colin
hope your ok
19:01
CW
How are you , how are you
settling back into work ?
19:01
LH
not bad thanks colin. starting to feel a little ran
down again. but not too intensely. 
19:02
CW
Hmm maybe we could have a think about this today
and try nip this in the bud before it becomes too overwhelming
:
– Re visiting self  care , carving out time for
self
– The costs of trying to do too much , outweighing the benefits
How does this sound?
19:03
CW
the bud"
19:04
LH
i think this would be handy
19:04
CW
So I am curious , last
week it seemed that the holiday and time away revealed some really helpful
information , that you hadn't had time for self or time to decompress from all
these 'things/tasks' that needed to be done .
We started to think about carving out some time just for you and to un-wind and
relax , I wonder what has happened since you got back
?
19:05
LH
interesting question. but i
see how its relevant the Redacted by Author "Sensitive information"
i had only just carved out the perfect rota between
my team and allowed myself for a good amount of days off and weekends away from
work and with my  partner
i finally had  a solid
team of staff all working full time.
19:08
LH
so i had to deal with a lot
of HR, Complaints, polices and procedures. onboard  a new member of staff. and rework the rotas.
which backtracked my workflow and started adding up
tasks again…
and i guess it really hit
on me and my motivation.
19:09
CW
I can hear that , firstly
great work on actioning the new rota and carving out the weekends and time for
self ! Even though it was short lived , it shows that
you can make change and change is possible.
I can hear that must have been incredibly frustrating ,
but on the positive side , You coped! You managed and adapted when needed too . I suppose highlighting some really positive traits of
being a manager
19:11
CW
Will you still be able have some time for self or
try and re-gain some free time for self , since this
setback?
19:12
LH
thanks, Colin. it was hard work. and i loved the idea that it was possible when i have a full team of full time
workers. and i certainly mananged
to handle it. although as you can tell it has effected me and im still
trying to recover!!!
i manage the rota. but i
find bank workers i hard to get in on the weekend.
and the company i work for is less then keen to hire
in agency as they cost "A Fortune" and are last resort. so its really hit and miss.  i can't fully rest unless i have
a weekend off.  as my partner works Monday – Friday at his desk job.
19:16
LH
are hard to get in*
19:17
CW
Yes it is unfortunate that it happened in the way
it did . I suppose this situation was completely out
of your control , there was nothing you could have
done to predict this would happen – In some ways you did all that you could
?
If we were to look for the positives in this situation (although frustrating)
did you learn anything from the process , and dealing
with the complaint / Redacted by author "Sensitive information" – that
you wouldn't have known , if it didn't happen?
19:18
LH
Redacted by Author "Sensitive information"
i wouldn't say i've learnt
anything (As in new skills / procedures ) but i learnt more about my abilities to handle certain
situations. and that i can handle some of the
Stresses of being a Manager.
19:24
CW
Yes , exactly ! You put that really well
, maybe not any news skills , but possibly confidence and experience
putting skills into practice , so if there was a next time you feel prepared
and have that past experience of knowing what to do .
I suppose the reason I ask this , is that if we only
focus on what we have lost it can be de-motivating and really take it's toll, although in every situation (good and bad) there
is always something we can take away from it , it just depends where we look
and which direction we look at the situations from.
It is encouraging that you have been thinking about how you can make time for
self and partner – I am curious if this was discussed with him about how you could
spend more quality downtime together? Since discovering this is what was needed
after the holiday
19:27
LH
exactly, you can train all your life and theorise
about the way a situation would go. but until you do it. you won't really know
how you will handle the situation or put that knowledge into play.
That makes a lot of sense.  and i will try and
look at both sides in the future and compare the good and bad of everything.
instead of focusing entirely on the bad side.
yes. me and my partner josh have discussed a lot over the holiday period and
since coming home about how we can make more time for ourselves… sadly i still lack – its frustrating
that the business needs always overrule my own needs.
19:32
CW
I wonder if you have any more annual leave planned
or if in future spacing annual leave out little and often so it doesn't feel
such a slog of working all the time or are you saving annual leave up for
something else?
19:34
LH
i still have some annual leave. not much about 12
days. i wish i could aford to go abroad more often but my budget is limited in
this job haha. family i
would like to see again this year but we have agreed to either go their for the weekend or get a
hotel.
My family is hectic. never calm. always something going on and never really as
refreshing as what i experienced in japan. (although I still
enjoy seeing them)
19:37
CW
Yes and that was really telling in your description , although a trip to family is a 'holiday' it
didn't sound as refreshing or rejuvenating as you probably would like .
I wonder if making sure some of that time off is used for you / and partner , planned and scheduled for that type of relaxing
time – not necessarily away or abroad – it could be just planning a couple of
days together or time out from the normal routine .
As without regular 'breaks' in life 'pit-stops' it can become overwhelming and
we all need time out from time to time , otherwise we
can be at risk of burnout and enjoyment from the job may be lost somewhat – I
suppose the point I am trying to make is the time-off work is just as important
as the time in work – as you need to be rested to be able to perform and enjoy
your role – hope that makes sense?
19:40
LH
not at all.
that makes sense that we should take more holiday just together. i hate just having time at home though doing nothing… i get frustrated when doing nothing haha.
sounds mad but i would rather work and save them A/L
Days for something productive. even in japan i never stopped lol…
but i understand i am
number 1 and that i need to be rested and relaxed to
perform my job at my highest abilities. the last thing i
want is to become so overwhelmed that my mind gets overly negative. "The
Li You First Met"
19:45
CW
That is a really good way to phrase it and your right , if we are overwhelmed with stress , life starts to
look bleak and we can be tempted to see life through that negative lens .
Just knowing that you have this awareness when things do start to become a bit
overwhelming this could be a 'sign' that you need a break ,
some time out – to recuperate . You do a emotionally
charged role it can be exhausting physically and emotionally – your human after
all :)
What I would like you to do over the next week ,
continue your success in challenging those negative thoughts , looking at what
can be gained from situations not just what has been lost  and questioning
but also when completing the questionnaires next session rather than reflecting
on the last 2 weeks . I would like you to think of how you felt when you
registered for support and compare to now to highlight progress and we can use
this to contrast and compare the change from start to finish – (comparing old
Li to present Li)  does that make sense?

<![if !supportLineBreakNewLine]>
<![endif]>
19:49
CW
(Also please confirm the appt after todays session ) 
19:53
LH
that makes sense. thank you for putting it into prespective.

would like you to think of how you felt when you registered for support
and compare to now to highlight progress and we can use this to contrast and
compare the change from start to finish – (comparing old Li to present Li)  does that make sense?

so am i fillng it in as if i was first entering into IESO or now?
or the differences.
its  abit confusing #
19:56
CW
Sorry – fill it as you feel 'now'
But think back to when you first started as this may prompt you to think ' Oh
that has changed ' rather than just looking at last 2 weeks
The purpose is to highlight how much your symptoms
have iproved
improved"
19:57
LH
i get you. makes more sense.
thanks Colin. i will do.
19:57
CW
Perfect :) Hope you get some time to relax over the
next few days or atleats in evenings speak soon!bye for now 
19:58
LH
take care, bye.
19:58
IESO Online Therapy Session 8
Appointment completed With Colin Wheeler
Hi Li :)
19:01
LH
good evening Colin
19:01
CW
How has your week been going ?
What have you been upto – have things settled since
last week ?
19:01
LH
its been really hectic. "Redacted – "sensitive information"
LH
apart from dealing with the aftermath of that on monday morning. its
been really well thanks :)
19:04
CW
It sounds eventful ,
although like you say pleased you did not have to deal with the incident ,
again a good learning opportunity for all involved – even if quite stressful
(taking the positives) .
How was your weekend? Did you get some time for self – I was plased to see you had added to your chronology – how did
that feel?
19:05
LH
certainly was a lot to learn from. :)
I was working Saturday, of sunday and monday (Although i did spend half
of monday doing admin for that incident) i was quite relaxed. me and my partner went out for a meal.
and we spent some time organising our lives and cleaning the house…. i recently found out my partner also has ADHD + Autism (Old
Diabolises that had only just recently resurfaced) so we both struggle a lot
with similar issues so we are trying to work together on it.
The chronology update was helpful. the feedback i got
was even better. it was a nice buffer from bad to good. i
also did another conference remotely through teams for the NHS which received a
lot of positive feedback.
19:09
CW
That is  a really
helpful and combined way for you and partner to approach difficulties and
challenges as a team and working together must feel less daunting for
both.
I am curious what sort of feedback you got and how this felt
? Has tis prompted any further updates – what to focus attention on ?
19:11
LH
working as a team really dose
help us not only to strengthen our relationship but to build ourselves
up into better people.
the blog post received feedback mainly in the forms of support… i've been told it helps to remind them that this story im telling is not live and accurate to date. and reminds
them that there is a positive story.
I used to get comments and emails from people wishing me the best of luck, and
trying to offer support and encouragement for me. "They still thought i was going through the situations i
write about"
NHS, as always find my "Life Story through the care system and mental
health team presentation"  uses my experiences
and i tell them what worked for me. the feedback for
them is that it allows them to look into my story and reflet
upon their own work practice. i talk about two main
points as being something that they should utlise in
their mental health teams.
1. Diversifying Therapy. (NHS + CAMHS) still heavily rely on Face-Face Therapy.
and this dose not work for everyone. it certainly dose not work for me.
2. Never give up hope. – There hope could be the only hope they have left. and
no matter how dificult it is. keep trying!
19:18
CW
Some really good points here ,
the two main points really stand out as something only someone who has been
through those experiences would know – it sounds a valuable story that
continues to need to be told and hopefully with some continued success attached
to show there is hope and there is chnage
possible.
Li today is our final session which is bittersweet as great to see your progress , but also have been a pleasure to work with
.
This gives us a opportunity
to pick the 'headlines' the 'take awaypoints' from
therapy that you will be able to revisit in future if needed.
What have you noticed changed over the past 12 weeks ?
That has been helpful
19:22
LH
thanks colin, a lot of people are speaking out now which
is good for change. it takes more then one person to
change a service :) – im just a small part of it.
what i've noticed and
reflected over: (Copy and pasted as i have been
thinking about it for a while now)
<![if !supportLineBreakNewLine]>
<![endif]>
I'm more interested in doing things i enjoy and don't feel as emotionally and physically
drained. despite workloads not changing an awful lot
im sleeping better but still not great my energy
levels have improved slightly. im certainly less self critical, we spoke about it possibly being linked to
overworking
and my concentration has improved although i'm still very much distracted. i
do find it slightly easier to pull myself back into the moment with prompts
from my Todo list
near by im less anxious and on
edge; unless im dealing with a critical moment at
work. but i don't worry as much. and feel more
confident in the work i do. i
still
hav some struggles to relax; but i'm
working on self care. as im
less overwhelmed im less likely to be annoyed and irritable.
i don't have irrational thoughts
or get annoyed at people so easily. i still struggle daily at work; but it is not affecting my
work quality as much. my one and only concern about the future is 
how to recognise + Apply self
care in the future to avoid burn out and a repeat of the struggles i've previously suffered with
19:23
LH
sorry the formatting went a bit weird haha
19:25
CW
Ok really nicely captured and great headlines from
the past few weeks.
To come onto your last point – how to recognise before it's too late and we
enter a negative spiral – I put this back to you – what could you do , to prevent slipping into old habist
and trying to do too much and spreading self too thinly ?
19:26
LH
find ways to relax; and rejuvenate. take holidays
at least once a year which takes me completely away from any stress. find more
time for myself. ask for help.  plan, and create more time (Where
possible) to do things that can take me out of every day and stressful
environments to heal.
19:30
CW
This is a great way to put a list of things /
activity to maintain self care – perhaps the most
important element you highlight is 'planning' self care
and time away from stresses . As unfortunately there
will always be pressure from life/work to do more – I suppose it's having that
time for you and time away from the stresses makes doing work/helping others
more possible.
That saying 'we cannot pour from a empty cup' and
that really rings  true when we are feeling burnt
out and unable to give any support or care if we aren't caring for self. So
perhaps prioritizing self and own needs in advance?
19:33
LH
thats a good point, its better
to take the rest, before the rest is needed :)
19:34
CW
Yes ! That could be a really good mantra
!.
I wonder what would you notice if you started slipping back into old habits , would there be any warning signs?
19:35
LH
i guess it would just be the pressure, and starting
to feel that everything is getting too much. if i
stop doing things i love / find simple day to day
tasks and hobbies no longer simple/fun 
19:37
CW
Yes good valid points , 'a
change' in what you enjoy or if there is a lack of enjoyment in life or day to
day actiivity .
I also wonder if you may notice being mor self critical
and being harsh about self?
19:39
LH
i would certainly think that i
would become more self critical and harsh… but at
that point its probbaly too late. it took a lot to
get me that far into a rut. 
rut is not the word i was
looking for. state probaly works better
19:40
CW
So it really is key to catch lack of time out / self care / before we reach that point .
If unfortunately (and hopefully you won't ) get into
that state , but just incase what would you do – how
could you get back on track ?
19:41
LH
Japan seems to be the magic cure xD – but more realisticly; just
taking some time back away from work and finding things to do that make me
happy and more relaxed. Allowing me to be more alert and reasonable and
tolerant to stress on my return to work. 
19:43
CW
Yes if only a spontaneous 2 week holiday was
possible when stressed , maybe something to suggest to
the NHS :)
Yes and discussing it with manager or highlighting your need for a few days off
, rota'ing it in to the upcoming month or so .
You can always come back to ieso if needed and I will
send details in how to do so , if you do find yourself in that position , I
hope you don't in the best possible way.
Li this brings us to the end of therapy , do you have
any queries or questions about ending ?
19:46
LH
hahaha  i woud love them to
provide us mandatory 2 week holidays!
thats a good point. and i
will do my best to make sure i get that time back.
I understand what you mean (I say similar to my residents. "I Can't wait
for you to leave, because it means your independent. and able to live a more free life."
There is nothing else left to say really. apart from sharing my thanks for
talking with me over the past couple of months. you've really helped me to
realise a lot about the way my mind works and ways to deal with stress at work.
I really enjoyed the fact you always kept me in the driving seat. (I almost
felt like i was the therapist haha) 
<![if !supportLineBreakNewLine]>
<![endif]>
19:49
LH
i wish you the best in your future Colin :)
19:50
CW
I just wanted to say it has been an absolute pleasure
working with you and seeing your progress week in week out and through some
really tough circumstances at times – you should be incredibly proud of
yourself and really well done.
You are your own therapist now :)
19:50
CW
I wish you all the very best and I am sure you will
be a huge success – keep doing what your doing and
most importantly look after yourself !
Goodbye Li :)
19:51
LH
Goodbye colin. thank you once again :)
19:51
CW
:)
Wednesday, 12 July 2023 – You were discharged from treatment
Conclusion of the therapy
i entered therapy feeling overwhelmed with work and unable to make out any positives, my mind clearly was reinforcing negative thoughts which is something i had to fight as a child during those mental health issues. what i didn't realised was that this was all linked into the fact that i was burned out, and that i needed some time away from work and even family to fully rest and recover. it was a shock that visiting Japan was the cure to the struggles i was having. as on my return i was more refreshed and able to take on the challenges of my role.
IESO Online Therapy CBT Review
i want to say a massive thanks to my thearpist colin wheeler for his support, i really loved the experience i had with IESO and the fact it was text based made it very easy; as i've previously mentioned not all therapies work for everyone and for me especially i can't deal with normal face-to-face appointments. despite me no showing twice with hardly any notice or none at all. colin still pushed for my treatemnet to continue and i can only thank you for this. Colin explored multiple theories with me and we where able to work down to the main cause of all theses issues which was lack of self care and burnout. Colin always kept me in charge and often used my own words to push theories! he really did make me feel like i was the person leading the session and he was just guiding me in the right directions.
I've left IESO with a new set of tools and understanding of the issues i face during burnout. I've been taught to challenge negative thoughts and to seek positive thoughts, how to identify and plan time for self care. and much more.
i certainly recommend IESO to anyone in need of support. (IESO Is free on the NHS But is limited in locations) my only suggestion is that notifications messages of appointments should be on the day and 48 hours before their has been a few times i missed the appointments due to getting busy just with life and remembering 15min after the session started that i was missing it and by then its too late. i had to start setting my own alarms to fix this. the constant questionnaires where tedious but also helpful for myself and therapist to check back on progression.